Free Fonts
Google Fonts
Google Fonts is probably the only resource most people will need font-wise. The service offers over 1500 computer fonts and web fonts. All fonts available on Google Fonts are open-source, which means they can be freely used, shared, and modified by anyone. Users can narrow font searches using a variety of filters, as well as preview custom text with fonts they like.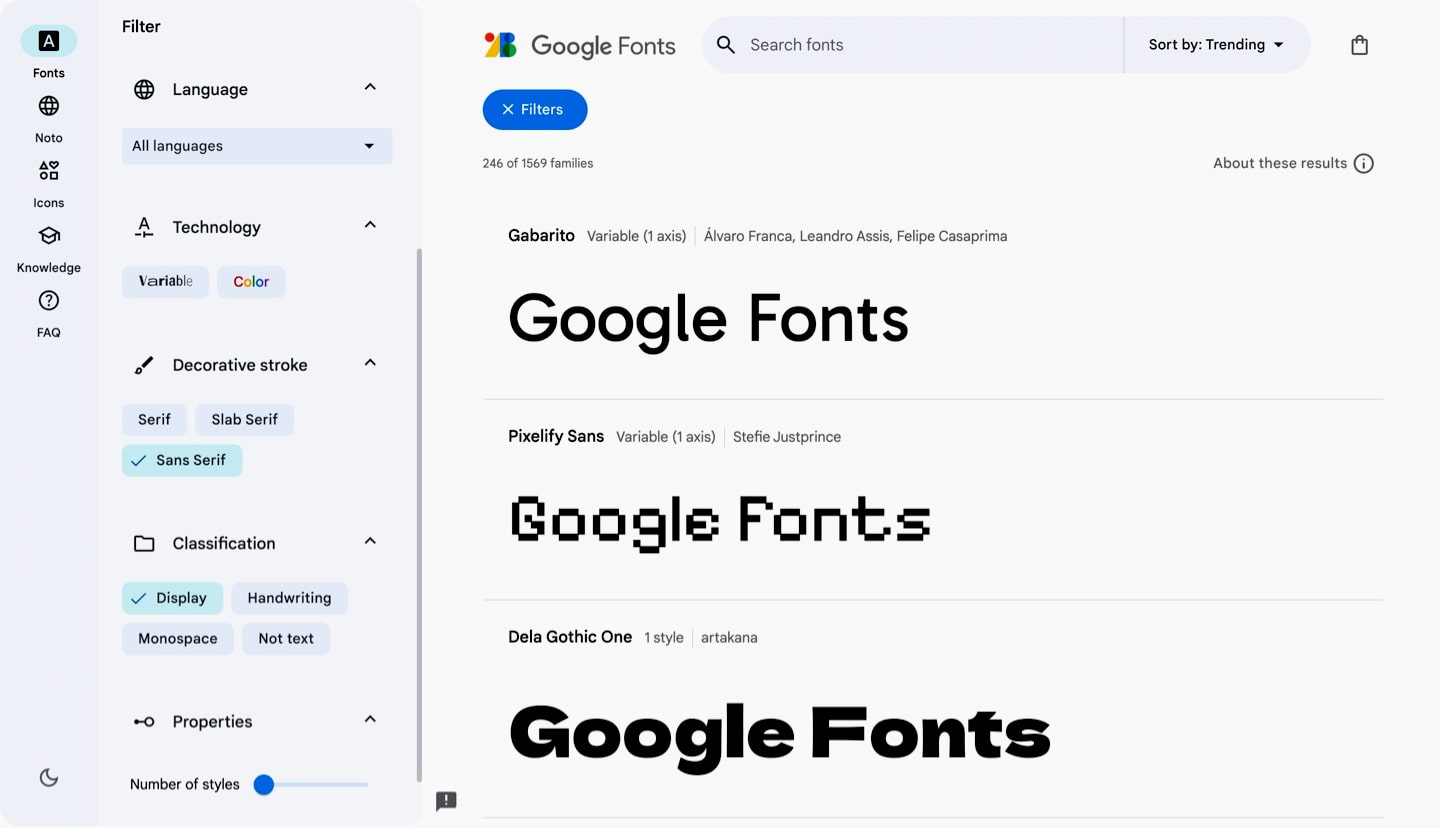 MyFonts
MyFonts is an online marketplace with a vast collection of fonts. In addition to paid fonts, bundles, and various font offers, MyFonts has numerous free fonts. The marketplace lists fonts from independent designers and well-known foundries. MyFonts provides comprehensive previews of fonts, allowing users to see how the font looks in different sizes and contexts.
An exciting feature MyFonts offers is called "WhatTheFont." It helps identify fonts from an image. Users can upload an image containing text, and the service will search for fonts in its database similar to that used in the image. This is very helpful for designers trying to match a specific font they've seen in a design or artwork.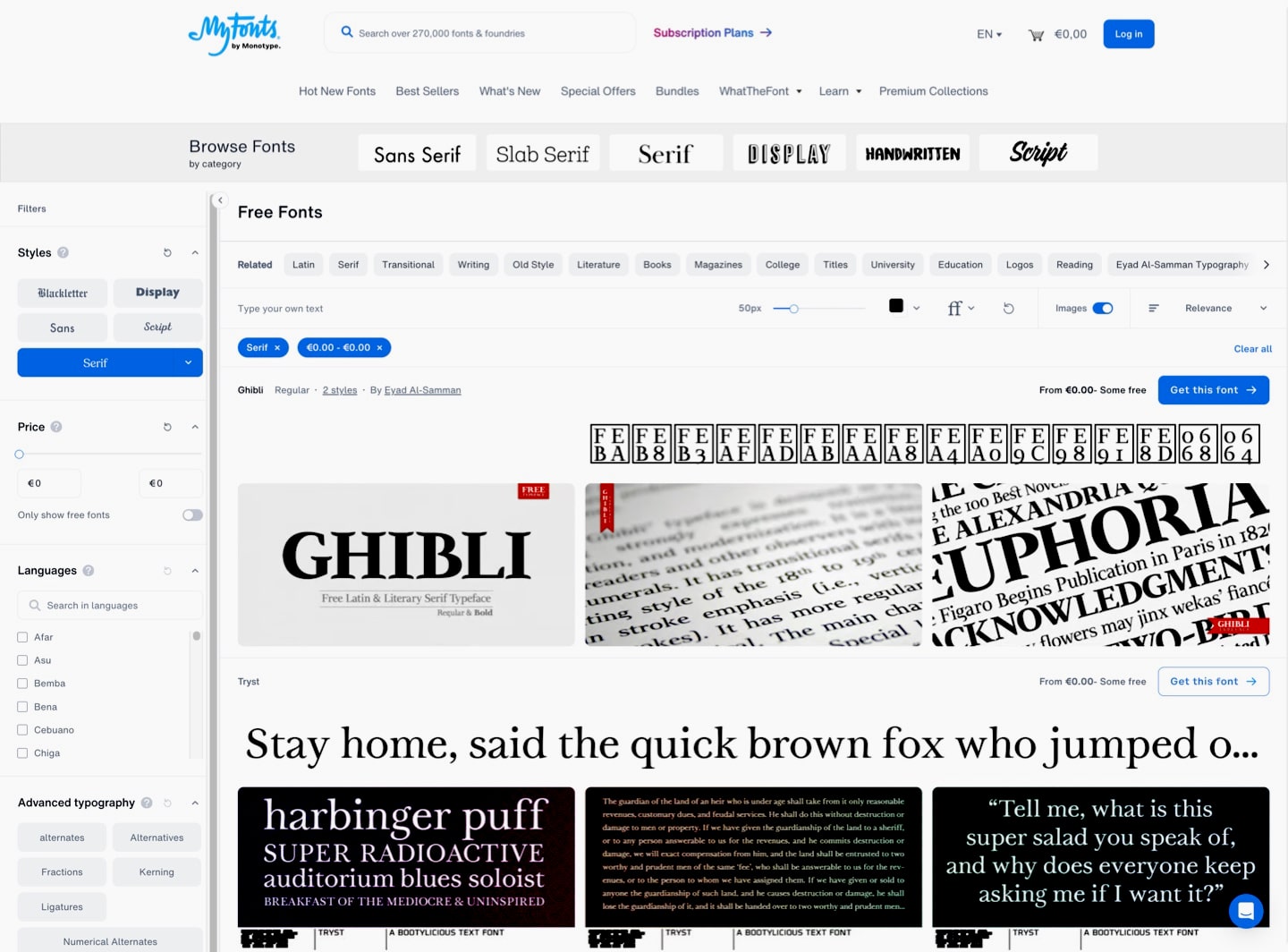 Font Squirrel
Font Squirrel is a valuable resource for designers that offers high-quality fonts. While most fonts on Font Squirrel are free for commercial and personal use without any licensing fees, it's better to refer to detailed licensing information for each font and understand the usage rights and restrictions associated with specific fonts.
Paid Fonts
Creative Market
Creative Market is an online marketplace that offers all sorts of digital design assets, including fonts. Founded in 2012, Creative Market has become a popular platform for creative minds to buy and sell high-quality digital products.
Creative Market offers a rich selection of high-quality, commercially licensed fonts. Users can buy multiple fonts at a discounted price thanks to bundle offers run on the marketplace.
Fonts In Use
Fonts In Use is an independent archive of typography that showcases real-world examples of fonts used in various contexts. It serves as a valuable resource for designers looking for inspiration and insight into how fonts are used in different media and designs.
A valuable part of this resource lies not only in the visual representation of fonts but also in the fact that each typography example is accompanied by detailed information about the font that has been used and where to buy it.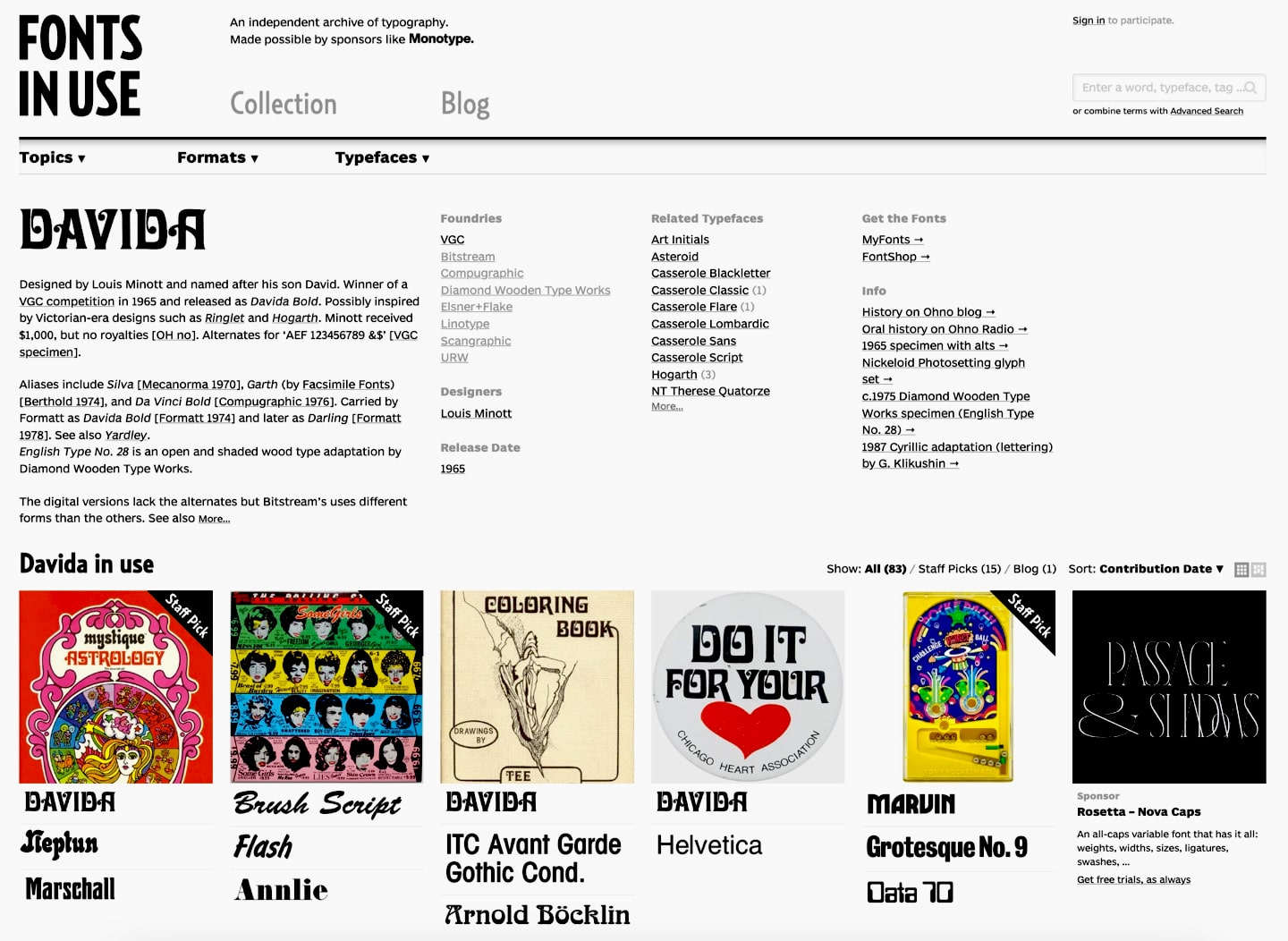 How to Install Fonts on a Windows
The installation process for Windows users is also relatively straightforward:
Right-click the font you want to install, and click Install.
If you're prompted to allow the program to make changes to your computer, click Yes if you trust the source where you downloaded the font.
How to Install Fonts on a Mac
On a Mac, the Font Book app is designed to help users view, organize, and install fonts. The app is pre-installed on every Mac computer, so the steps below should be smooth for all Mac users.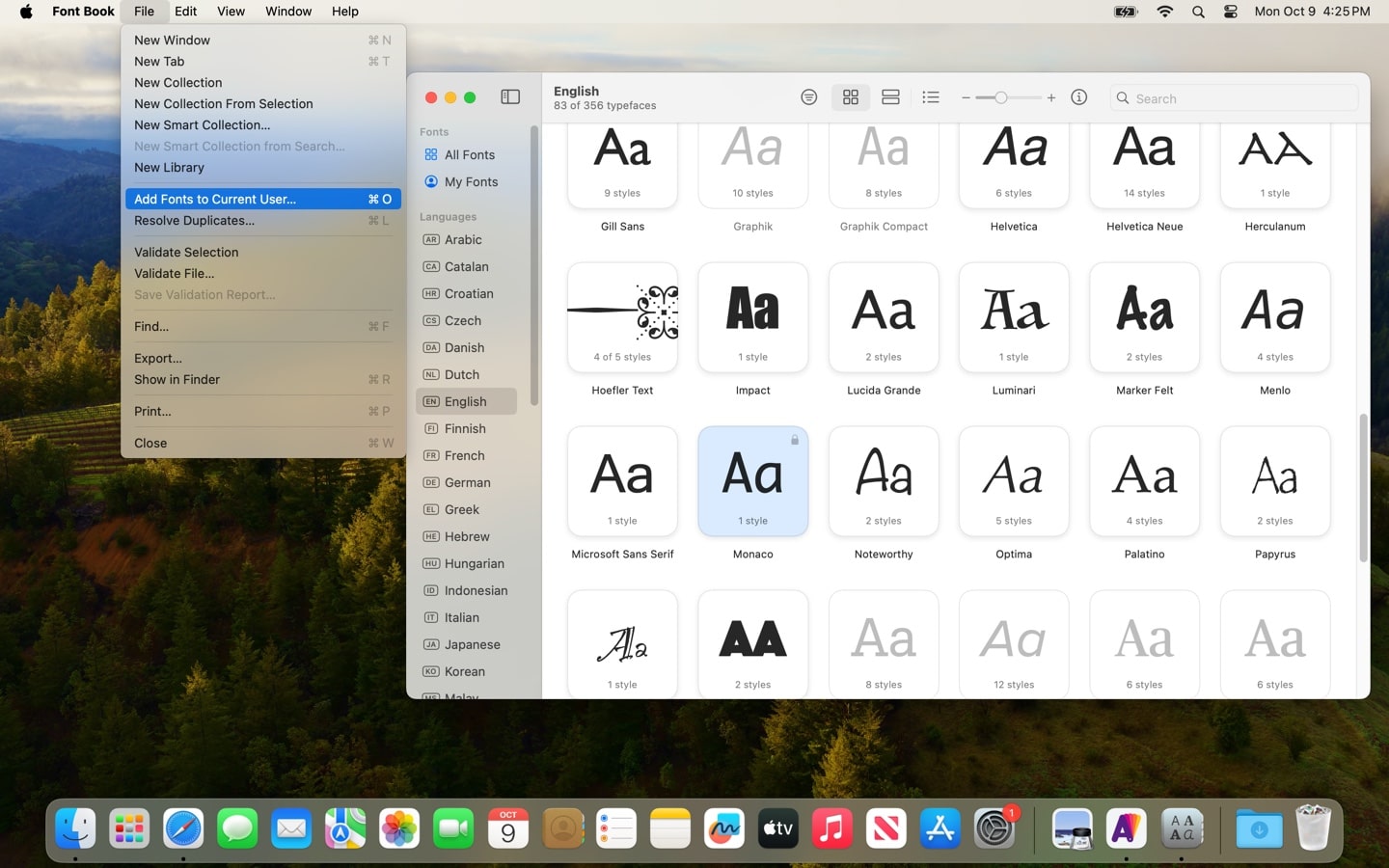 Download a font file, the following font formats are supported: TrueType (.ttf), Variable TrueType (.ttf), TrueType Collection (.ttc), OpenType and OpenType-SVG (.otf), and OpenType Collection (.ttc).
Then follow one of the next steps:

Launch the Font Book app and choose "File > Add Fonts to Current User." In the window that appears, double-click the font file.
If you have the Font Book icon in the Dock, you can drag the font file into it.
When the Font Book app is running, you can drag the font file into the Font Book window.
Double-click the font file in the Finder; this will run the Font Book app, and then click Install in the dialog that appears.
Upon fonts installation, the Font Book app automatically validates fonts for errors and checks for duplicates.
Brightening Up Fonts
Enhance your fonts with stunning text effects to elevate its visual impact. With applications like Art Text users can effortlessly apply a variety of captivating text effects to fonts, and even create mesmerizing 3D text from regular fonts. The typography graphics can be exported with a transparent background, making them ideal for your print materials, social media posts, or digital design projects.
If you're involved in video production, Art Text offers easy-to-use tools to animate motion and text effect changes perfect for creating eye-catching video introduction titles.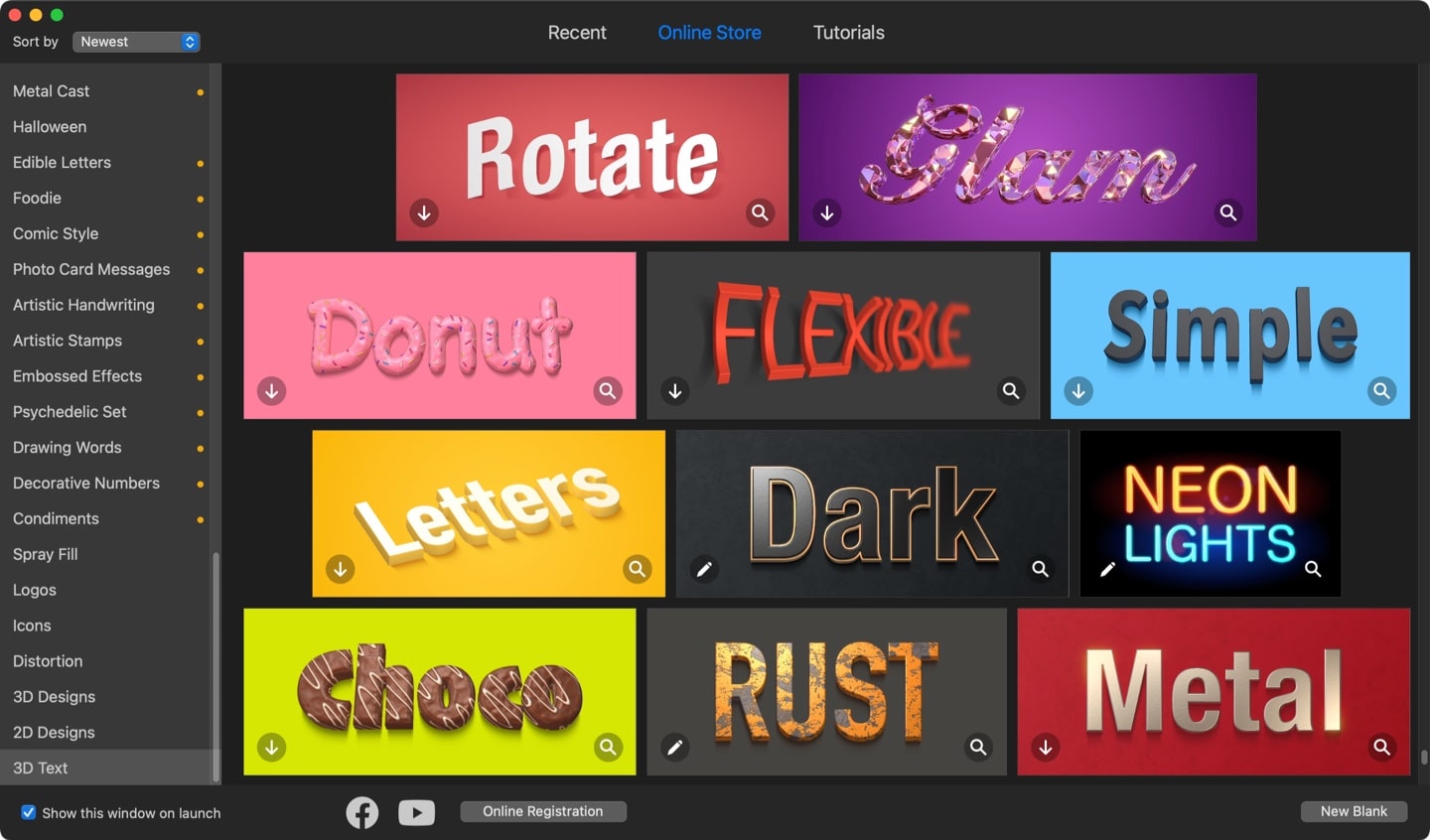 Conclusion
Fonts are the cornerstone of typography, shaping how content is perceived and remembered. The font choice significantly influences the overall tone, readability, and impact of text.
Before using a paid or free font in your personal or especially commercial endeavors, always pay attention to the font license.
Published in October 2023