Google Fonts
Google Fonts is a directory of 1426 unique and free fonts designed by font designers and experts. These fonts conform to the legibility and readability factors, and that is the reason behind their excessive use nowadays. Furthermore, the developers can also use these fonts via CSS and Android.
The graphic design app Art Text has integrated Google Fonts to enhance its typography design features. Users can now choose the best-fitting font for their text-based graphics from the computer library or Google Fonts.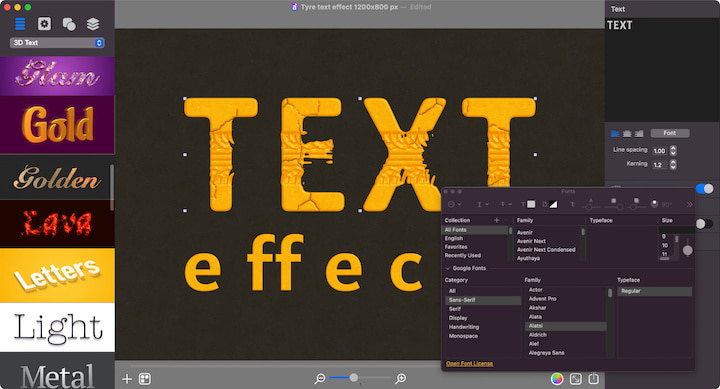 Google maintains its library of Google Fonts on a GitHub repository. Hence, you can get the updated and latest version of any font family using the GitHub repository. You can also download fonts from this open-source library. Web designers, typographic artists, content creators and many other professionals use Google Fonts daily.
Google has categorized its font collection to enhance the accessibility factor. The users can search for the required font style in the respective category. It will save the users' time while searching for the most viable font. The following are the five categories of Google Fonts.
Serif Typeface
The Serif category is one of the most common categories in Google Fonts. A serif font has different outward designs at the endpoints of a character. That makes the design of a font a bit more stylish. For instance, Times New Roman is the most popular serif font. As you can see in the example below there is outward and inward styling at the end of the characters.
The fonts of serif are ideal for a traditional and formal piece of writing since they provide a more readable look to the overall font style.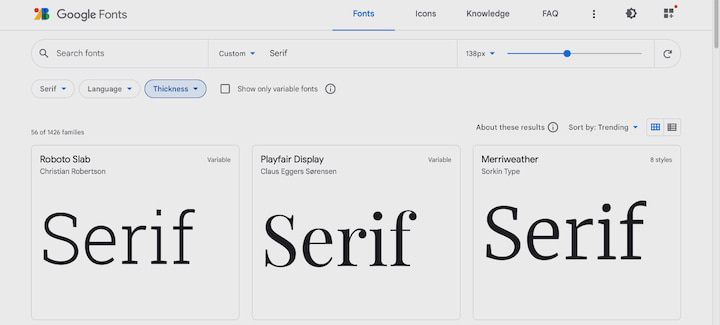 Sans-Serif Typeface
The Sans-serif family of fonts is modern and has a simpler approach than the serif font family. It is a popular font category for formal documentation with high readability requirements. There is no designing aspect at the end of every character of this font category.
Arial font belongs to the sans-serif family. You can check that there is no styling of characters as it is simple, and it is a modern and approachable category of Google Fonts.
Display Fonts
This is the special category of Google Fonts. It is predominantly relevant for use in headings. According to typography experts, these fonts are best for use with a higher pixel rating. The legibility and readability factors of display fonts decrease significantly in smaller sizes.
This category of Google Fonts helps specifically with headings and text of significant nature. Avoid using these fonts for body text or in smaller sizes to avoid difficulties with text reading.
Google Handwriting Fonts
This font family comprises different styles of handwriting. These fancy and stylish scripts are best for some highlighted text. You can use this font to display a special message, such as promo and creative texts.
Other than that, this category of Google Fonts is not preferable. The fancy design of these fonts downsizes the readability factor.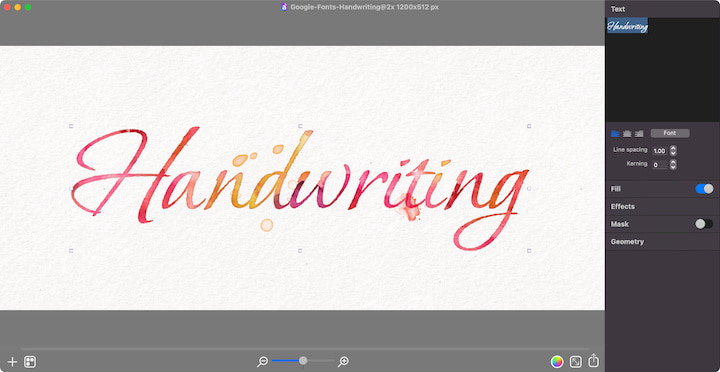 Google Monospace Fonts
The literal meaning of monospace is "same space." The Monospace Fonts category is harder to read than other categories' Google Fonts. The width of every character in a monospace font is the same.
Due to the less readability factor, it is advisable to use these fonts for headings or a small attractive text.
Google Icons
Google Icons is a comprehensive collection of 2,500 glyphs, each symbolizing a unique meaning and context. Categorically, the Google Icons are available in three different styles. These icons are free to use since Google has listed them on an open-source platform.
Furthermore, you can also get access to these icons on the GitHub repository, where Google maintains the respective library. Web designers can use Google Icons to enhance the UI/UX of their web pages.
These icons are also perfectly viable for use in vector graphics or any graphic content. Moreover, content writers can also incorporate these icons in a supportive role that will signify the content. You can also embed these icons into typography graphics as flying elements. For example, the Art Text app can help you convert these icons into 3D shapes for use with 3D text graphics.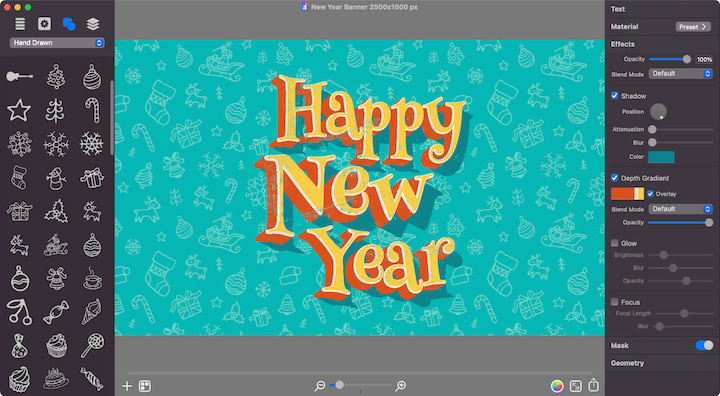 Google Fonts Knowledge Base
Google Fonts has a knowledge base section. Different sections within the knowledge base offer design guidelines, educational tips and articles. If you are about to initiate your journey with Google Fonts, a walkaround of the knowledge base will be beneficial.
The topmost aspect of this knowledge base is that it provides a comprehensive guideline for finding and integrating Material Symbols and Material Icons. You can use these icons and symbols to comply with modern design trends. The knowledge base guide will let you find a specific material icon and will also help you in embedding it with your design content.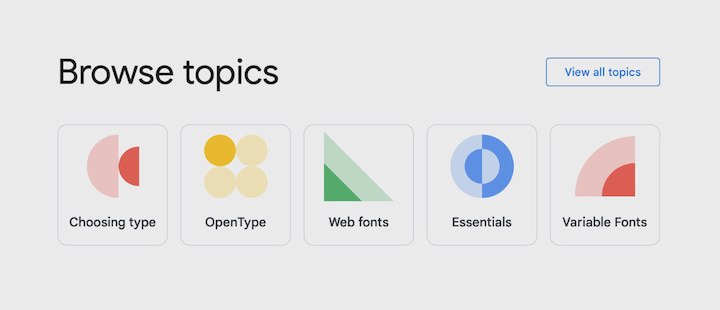 Final Thoughts
Google Fonts is a gold mine for website designers, app developers and vector graphic artists. They can choose the best font and icon from a library of 1,426 fonts and 2,500 icons. Moreover, Google Fonts also offers a huge chunk of helpful articles and tips in the knowledge section. These articles help users to solve their queries regarding Google Fonts, typography and graphics design in general.
All these fonts and icons are free to use as Google provides them as open-source materials. However, you must consider the Apache terms and conditions for embedding Google Fonts. You must read and conform to the license terms to use these free fonts and icons without the hassle. The crux of this discussion is that Google Fonts is a viable tool for free font and icon requirements in countless projects.
Published in July 2022