Set Up a Document Size
Creating Valentine's greeting cards starts with deciding what card format you want─vertical, horizontal or square. In Art Text, defining a document size is easy via Edit > Document Size menu or by clicking the Document Size button at any time during the design process.
Obviously, you may decide to alter the document size in the process, which is when the "Automatically resize objects" option comes in handy. It will automatically resize your Valentine's Day card elements in accordance with the document size change.
Don't forget to choose a background for your card. You can drag and drop personal photos or use any of the supplied background presets. For this example, I will use a yellow background with a radial gradient.
Choosing a Font
When creating a greeting card, typography plays an important role. Typography graphics is a mix of text effects with a corresponding font. Art Text will let you use any of the macOS system fonts, as well as custom fonts included in paid text design templates.
If you don't have a font that you like on your Mac, try using one of the Google Fonts. Art Text offers a convenient integration with Google Fonts right in the Fonts dialog box. Just click on the Font button in the Text tab of the Inspector and expand the Google Fonts option.
Any cursive font will go well with the text effect for the Valentine's card I will be creating.
Create a Text Effect
Art Text has various tools to create diverse text effects, such as retro text, aquarelle and watercolor typography. Even 3D text is no problem thanks to a unique engine that creates 3D text from a text that you type.
A unique feature of Art Text is its Spray Fill tool that lets users compose characters and words out of small items, such as coffee beans, sugar sprinkles, fruits and leaves. Or, you can import your own photo objects from which to compose text.
I will use custom red color circles to fill text and heart icons. For flying hearts I will use one of heart shapes from the supplied Symbols collection.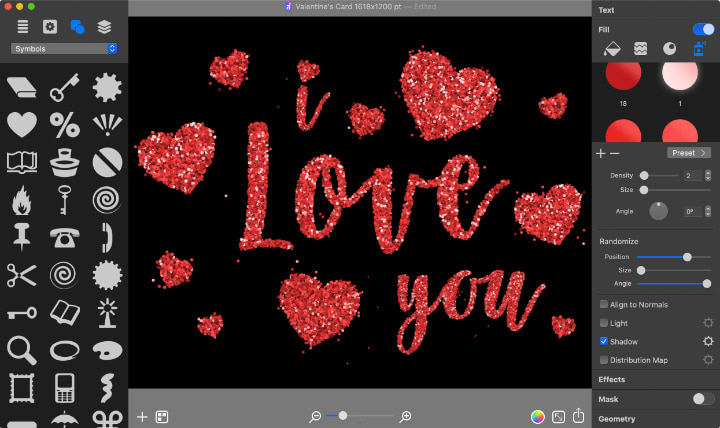 Deliver Your Valentine's Card
Once the design is created, you will need to deliver it to your loved one. Recent technology offers several options to accomplish this. You can print the Valentine's Day card and deliver it in person or send it via regular mail. You can also export the graphics you created in Art Text to an image file and email it as an e-card, post it on social media channels and more.
An interesting feature of Art Text is the ability to export graphics as a Facebook 3D Photo.
A Shortcut for Those in a Hurry
If you lack time, or are not really a design person, you can kick off your design project with any of over 180 supplied text effect templates. Or, consider buying 11 beautiful templates as part of St. Valentine's set for just $3.99. All of these templates are fully customizable, so you can type your own message and make minor edits, if necessary.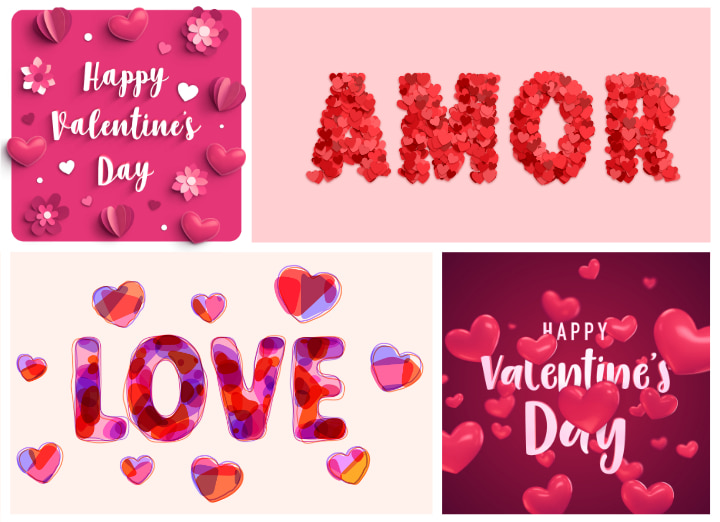 Greeting your loved ones with a custom Valentine's card will not go unnoticed, especially if St. Valentine typography is made in Art Text.