Text Effects as in Movie Titles
Grab the popcorn and get comfy while you learn about movie titles and text effects in cinematography.
Typography has played an important role in cinematography since the very beginning. As you can imagine, typography in silent movies was used not only to display the movie title, main characters and actors, but also to deliver key information to audiences during the film. The text could explain some key story moments, while requiring the viewers to obey cinema rules.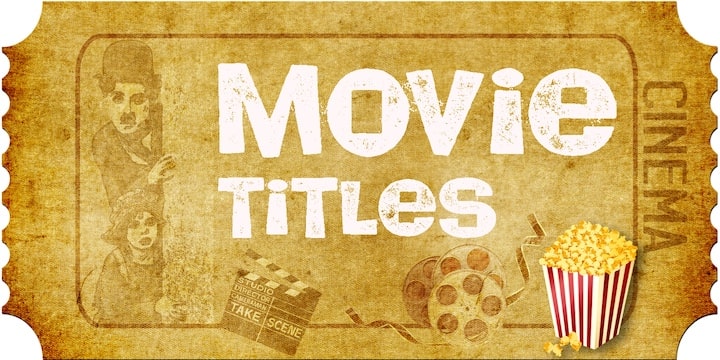 At first, cinematic typography was rather simple. Its purpose was to ease the production and ensure clarity for the viewers. Later, with the evolution of typography and graphic design, movie titles have matured significantly.
Text effects and movie titles are not only used by large film and television companies, but also by anyone creating video content. Attractive typography is used as an introduction to your video, thumbnail graphics for YouTube or Vimeo and for various print material, such as movie posters.
Now you might be curious as to how one can design marvelous movie titles without a big team of designers. That's where Art Text for Mac can help by assisting in text effect and typography design. Let's see what tools Art Text has to create movie titles and text effects similar to those seen in popular movies.
2D Text Embossing
A special 2D text fill option, Shading Materials, adds volume and bump to regular text, as well as giving the text a visual effect of physical materials, like glass, plastic, paint or ink. Users are offered 140 Shading Materials and a material editor to edit or create new materials. The Bump Map tool helps to create textured surfaces or scratches, like in the Fantastic Beasts movie title.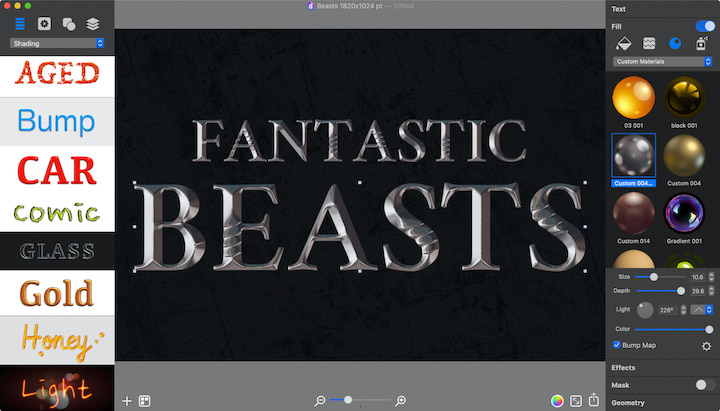 Font Distortion Effect
Use font distortions to edit fonts beyond typeface boundaries, for example wearing out text sides, adding holes in the font body, dimming and even rounding font corners. Stacking up several layers with texts distorted with different parameters and filled with different colors can provide interesting text effects, similar to the one used in the Avatar title.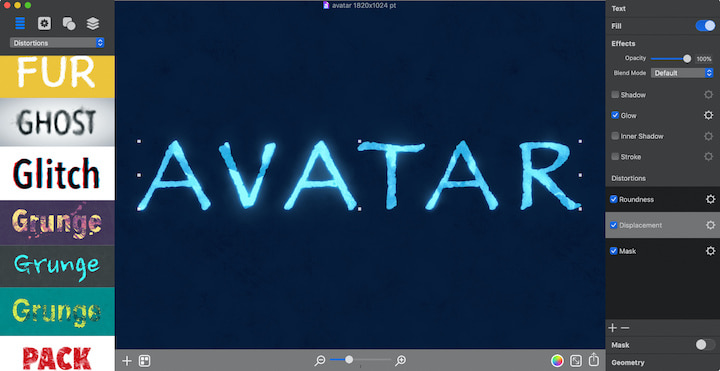 Electric Text Effect
Another use of Distortion Effects in Art Text is to create an electric text effect like seen in the Sonic movie. Displacement and Blur distortions create rough text edges that simulate electric discharge that flows along text edges when colored in blue and white. Adjusting Mask and Erosion distortions lets you take full control over the text body appearance. Stack up several layers to complete the electric typography.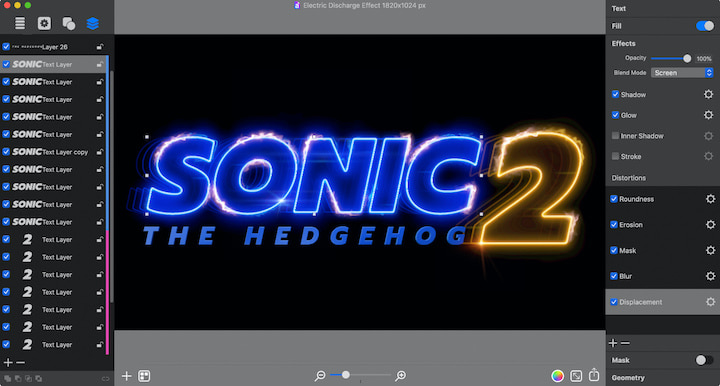 3D Typography
The unique feature of Art Text is its ability to generate 3D text from a user's typed words. Once 3D text is created, the app offers multiple 3D settings and presets to ease the design process.
Art Text has over 200 material presets for a quick start. Material preset is a combination of texture, light, bump map, reflection mask and environmental lighting properties. Users can adjust any of these properties to fine tune the 3D text appearance. An important part of the 3D text design process is Depth Gradient, which is used to create a side distinctive from the front. Below is a sample of the Fast & Furious movie title created in Art Text 4.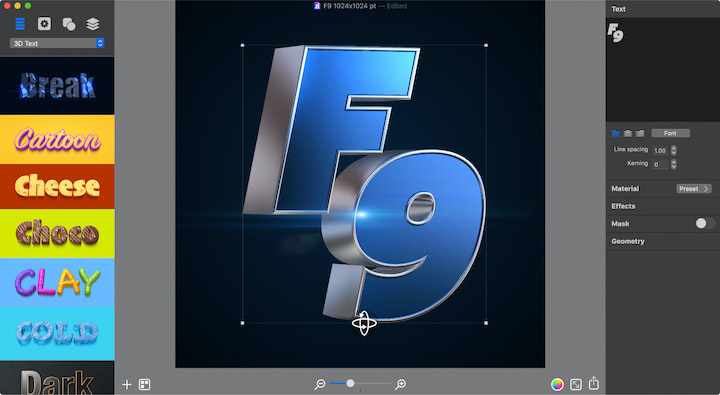 Movie Title Templates
First-time users of Art Text will appreciate the availability of the Design Gallery, which contains over 400 ready made text effects and typography graphics (some of these templates are paid). Grab a template you like, change the text in it and... voila! Your movie title is ready.